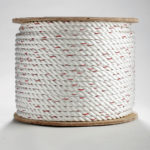 High tensity polyester fiber wrapped cover over polyolefin core yarns.
High Tenacity Polyester Cover Yarns over Polypropylene Core Yarns
5/8" Diameter Exceeds ANSI & OSHA Standard For Fall Protection
Highest Break Strengths In Cordage Industry
Low Stretch – High Strength
Resistant to Rot, Mildew & Petroleum Products
Superior Abrasion Resistance
UV Sunlight Resistant
White With Red Tracer

Minimum Break Strength: 8,946 lbs.
Approximate Density: 9.5 lbs./100 ft.
Approximate Package Weight: 114.0 lbs.
Pricing available upon request.
To rent, contact us at 216-881-0874 or